Search Engine Marketing - Website Promotion
After your site has been analyzed and optimized, it's time to market it across the Web. There are a few options you have for marketing your website.
When we optimize your site initially, we research keywords and then strategically place them throughout your site. We then submit your site to search engines, Internet directories, and to industry specific directories. A properly optimized web page will help your site gain higher positions in search engine results pages (SERPS) "organically", or naturally.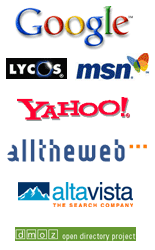 Next we concentrate on building good incoming links to your site. This link-building phase increases your link popularity and helps your site gain higher page rank, thereby assisting organic SEO methods. While link popularity carries weight with search engines, all links are not equal. It's important that your incoming and outgoing links fit the general theme of your site and that they are high quality, informative websites. Link building is an ongoing, tedious process. Too many incoming links too soon may raise red flags to search engines, so we do this a little at a time. We do not and will not participate with link farms or FFA (free-for-all) exchanges, and we stay away from link-buying schemes designed to manipulate search engine results.
Dynamic web sites, large e-commerce sites, and heavily competitive sites will need an extra push in the engines. We do this by engaging in PPC (pay-per-click) advertising.
When considering PPC marketing, keep in mind that clicks do not equal sales! You pay for the click to your site, not for clicks that equal sales. However, a proper landing page and carefully optimized ad copy will generate highly targeted traffic for you. Targeted traffic generally equals more sales. There is a lot of room for error, and even though there are safeguards in place, click fraud is still a real concern, so PPC Campaigns must be monitored very closely in order to be effective.
Whether you choose organic SEO or PPC as your preferred method of website marketing, Treasure Coast Host will help you every step of the way. We can offer guidance if you want to run your own PPC campaign, or we can set up and run the campaign accounts for you. Contact us for more information concerning PPC campaign management. Several price packages are available depending upon number of keyword phrases and the site dynamics.